Multi-Sensor RTK/PPP Module
Products
RTK/PPP Positioning with Multi-Sensor Fusion
on a Single Board
The ANavS Multi-Sensor RTK/PPP-Module (MSRTK) includes up to three Multi-Frequency, Multi-Constellation GNSS receivers for both precise and reliable position and attitude determination. An industrial-grade IMU and a barometer are also included in our MSRTK module for a tightly coupled sensor fusion. Further sensors can be easily connected through our numerous interfaces including CAN, Ethernet and USB.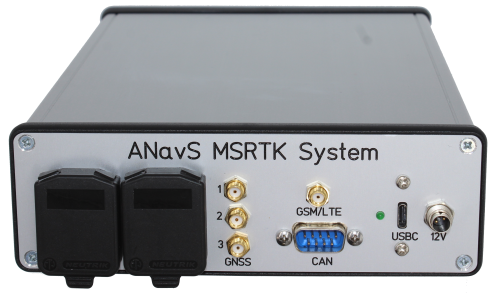 Centimeter Positioning Accuracy
Precise absolute RTK positioning:
horizontal accuracy:
sigma = 1.0 cm
vertical accuracy:
sigma = 2.0 cm
Precise absolute PPP positioning:
horizontal accuracy:
sigma = 15 cm
vertical accuracy:
sigma = 20 cm
Precise absolute attitude (heading, pitch, roll):
sigma = 0.25° for 1 m distance
between the GNSS antennas
Multi-GNSS, Multi Frequency RTK/PPP Technology
GPS (L1C/A, L1C, L1PY, L2C, L2P, L5)
Galileo (E1, E5a, E5b, E5 AltBoc, E6)
GLONASS (L1CA, L2CA, L2P, L3)
Beidou (B1I, B1C, B2a, B2I, B3)
QZSS (L1C/A, L1C, L2C, L5, L6)
SBAS (Egnos, WAAS, GAGAN, MSAS, SDCM (L1, L5))
On module L-band
Easy system integration
Power supply:
USB-C 5V
Terminal connector < 24V
Solution output:
Standardized NMEA format
Proprietary ANavS binary format
Processor:
Powerful Cortex-A53 64-bit Quad-Core with 1.2GHz
Linux-OS for flexibiltiy
Why should I use the ANavS® MSRTK?
The patented ANavS® tightly coupled sensor fusion provides real-time 3D-position, 3D-attitude (heading, pitch, roll), 3D-velocity and 3D acceleration information with an update-rate of up to 140 Hz.

Temporary GNSS outages (in narrow street canyons, below bridges, in garages or tunnels) or high multipath (e.g. below trees) are overcome by the integration of additional sensors (IMU, wheel odometry, camera, LiDAR or UWB-based Local Positioning Systems (LPS)/ Real-Time Locating Systems (RTLS). Thereby, precise position and attitude information is still provided in challenging environments.

We can flexibly configure the ANavS Multi-Sensor RTK module according to your needs: You can choose between one, two and three integrated GNSS receivers. If you are interested only in an accurate position, then one integrated GNSS receiver is totally sufficient. If you also need an accurate heading, you should have two integrated GNSS receivers. If you need a full 3D attitude information (heading, pitch and roll), then you should choose the version with three integrated GNSS receivers. The use of 3 instead of 1 or 2 GNSS receivers also improves the positioning accuracy for mainly two reasons: First, a precise attitude information enables a much more accurate correction of the gravity and, thereby, improves the benefit of the inertial sensor within the sensor fusion. Second, the number of GNSS measurements increases with the number of GNSS receivers, and thereby, enables a more stringent selection of the best GNSS observations. This leads again to a higher positioning accuracy.