Products
Multi-Sensor Fusion on a single Board
The Multi-Sensor RTK-Module (MSRTK) includes up to three Multi-Constellation, Multi-Frequency GNSS receivers for a highly accurate and reliable position and attitude determination. Additional sensors like IMU and barometer are already equipped on our MSRTK board. Other sensors can be easily connected through our interfaces CAN, Ethernet, UART and USB.
Centimeter Accuracy
Precise absolute positioning:
horizontal accuracy: sigma = 0.015 m
vertical accuracy: sigma = 0.030 m
Precise absolute attitude (heading, pitch, roll):
sigma = 0.25° for 1 m distance between the GNSS antennas
High number of interfaces
Ethernet
WLAN
USB
CAN
LTE
UART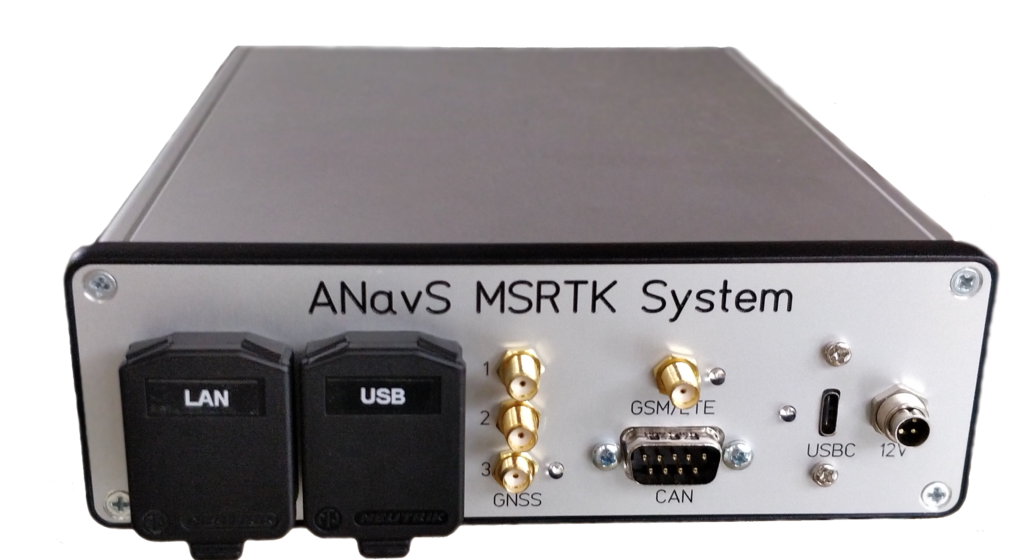 Multi-GNSS, Multi Frequency RTK
GPS (L1C/A, L2C)
Galileo (E1B/C, E5b)
GLONASS (L1OF, L2OF)
Beidou (B1I, B2I)
QZSS (L1C/A, L2C)
SBAS (EGNOS, WAAS)
Small form factor and Low Weight
Dimension:
110mm x 80mm x 30 mm
Weight: 50g
Easy system integration
Power supply:
USB-C 5V
Terminal connector < 24V
Solution output:
Standardized NMEA format
Proprietary ANavS binary format
The ANavS® sensor fusion technology delivers a 3D-Position, 3D-Attitude, 3D-Velocity and 3D acceleration with an update-rate of up to 140 Hz.
Depending on the additionally used sensors (IMU, Vehicle Data, Camera, Lidar, LPS) in our framework, signal shading (tunnels, urban canyons, trees, etc.) can be bridged without loss of high-precision position and attitude information due to the sensor fusion.